The leader in graphic design, web and marketing services for the arts, nonprofit and small business communities.
January 2010 Issue:
IF YOU ARE A RETAILER
AND WOULD LIKE OUR WHOLESALE CATALOG, OR IF YOU ARE INTERESTED IN LICENSING OPPORTUNITIES,
PLEASE CONTACT US.
Canfield Design Studios, Inc.
2887 College Avenue, No. 342
Berkeley, CA 94705
TEL: 212.243.5295
info@canfielddesignstudios.com
www.canfielddesignstudios.com

We at Canfield Design Studios are noticing hints of optimism for the brand new year from our clients, colleagues, and friends. I think it is no secret that many of us were all too happy to see 2009 come to a close!

In this issue we highlight our newest project, the recently redesigned website for the American Bach Society, and once again include our free initial consultation offer.

Are you ready to welcome in new opportunities and abundance in 2010? We kicked off our own marketing efforts this year by attending and exhibiting at two performing arts conferences in the last two weeks. Contact us to set up your initial consultation to see how we can help you to promote your projects in this new year!

Very best wishes to you all for 2010,



Kathy Canfield Shepard, President
Canfield Design Studios, Inc.


Many thanks to everyone who visited us at the Arts Presenters (APAP) and Chamber Music America (CMA) conferences in the past two weeks - it was wonderful to see so many old friends and to make some new ones!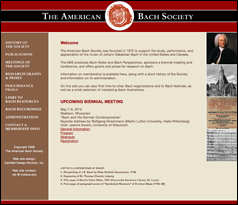 Canfield Design Studios recently redesigned the website for the American Bach Society. Founded in 1972, the ABS was supports the study, performance, and appreciation of the music of Johann Sebastian Bach in the United States and Canada.

Visit the website >>>



Do you have a new project that you need help promoting for the new year? Contact us for a FREE consultation to see how Canfield Design Studios can help you launch your next marketing initiative. To learn more and see some of our other projects, please click here.

Canfield Design Studios works with those in the arts and nonprofit communities who need business support in promoting their projects, and with businesses and entrepreneurs who need help in marketing their businesses in a more creative way.

We Offer:
Website Design & Development
Print, Logo & Identity Design
Illustration
Consulting & Training
Click here to learn more and see our portfolio >>>