March, 2008
IN THIS ISSUE:

To help warm up this cool economic climate, we are offering a 10% discount on all of our new web and print design development projects through April 30th, 2008.
Please note:
You must mention this
email to qualify.

Click here to learn more
and see our portfolio

Click here to email us, or contact us by phone at 212.243.5295

It seems wherever you turn these days, there is news and evidence of a slowing economy. While many are tightening their purse strings, this might actually be the best time to invest in your business or a new project. In this issue, we highlight resources and ideas to help you continue to market and grow in uncertain times.

We also celebrate "Women's History Month" with a recently published article about women in the music profession, as well as some recommendations in our "March Picks" section.

We hope you enjoy this issue, and as always, we welcome your thoughts!

Yours in prosperity,



Kathy Canfield Shepard, President
Canfield Design Studios, Inc.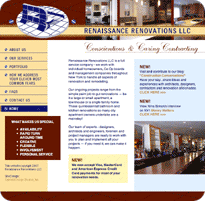 Canfield Design Studios recently launched the website for Renaissance Renovations LLC, a full service company. They work with individual homeowners, Co Op boards and management companies throughout New York to handle all aspects of renovation and remodeling.
See more about Renaissance Renovations
and our other recent projects >>>

Women's History Month: Women in Music
Still a Long Way to Go


by Kathy Canfield Shepard


As we look to the future for women in music, it is important that the union and we as individual performers continue to find ways to equalize the opportunities for women in all areas of the music profession.
Read the entire article in the March 2008 issue of Allegro, as well as other articles >>>



National Association of Women Business Owners-NYC
NAWBO-NYC inspires and empowers women business owners and promotes and supports the growth of women-owned businesses. As a unified voice for women of diverse industries and backgrounds, the organization seeks to effect social, political and economic change.
CLICK HERE FOR A COMPLETE LIST OF UPCOMING EVENTS >>>

My Money Matters Kit from Down to Earth Finance
The My Money Matters Kit provides valuable resources for all your money needs and fits easily in your hands! MORE INFO >>>

Words of Worth from Jussim Communications
This year, Winter's cold has been compounded by a chill in the economic indicators. We can be confident the air will warm when Spring arrives next month. This issue of Words of Worth has some thoughts on maintaining a warm economic climate for your business.
CLICK HERE FOR A PDF FILE OF THE WHOLE ARTICLE >>>

Canfield Design Studios works with those in the arts and nonprofit communities who need business support in how to market their projects, and with businesses and entrepreneurs who need help in marketing their businesses in a more creative way.

We Offer:
Website Design & Development
Print, Logo & Identity Design
Illustration
Creative Marketing Solutions
Consulting & Training