The leader in graphic design, web and marketing services for the arts, nonprofit and small business communities.
October 2009 Issue:
IF YOU ARE A RETAILER
AND WOULD LIKE OUR WHOLESALE CATALOG, OR IF YOU ARE INTERESTED IN LICENSING OPPORTUNITIES,
PLEASE CONTACT US.
Canfield Design Studios, Inc.
2887 College Avenue, No. 342
Berkeley, CA 94705
TEL: 212.243.5295
info@canfielddesignstudios.com
www.canfielddesignstudios.com

A Definition:
launch [lawnch, lahnch]
1. to send forth, catapult, or release, as a self-propelled vehicle.
2. to start (a person) on a course, career, etc.
3. to set going; initiate.
4. to throw; hurl.
5. to start (a new venture) or promote (a new product).

This has certainly been a theme running through Canfield Design Studios over the past month!

In this issue, we'll share with you the launch of a new website for composer Jennifer Higdon, as well as announce a new product launch for our Swimming Paintbrush® division. I've also embarked on a new adventure by enrolling in a digital photography course (which has been great fun!), and hope to be able to use these new skills to help all of our clients launch their future projects.

What will your new adventure be?

We hope you enjoy this issue, and as always, we welcome your thoughts.




Kathy Canfield Shepard, President
Canfield Design Studios, Inc.


We are proud to announce the launch of a new website for composer Jennifer Higdon. Jennifer maintains a full schedule of commissions and her music is known for its technical skill and audience appeal. Hailed by The Washington Post as "a savvy, sensitive composer with a keen ear, an innate sense of form and a generous dash of pure esprit," she is one of America's most frequently performed composers. CLICK HERE to visit her new website.
See more of our web design projects >>>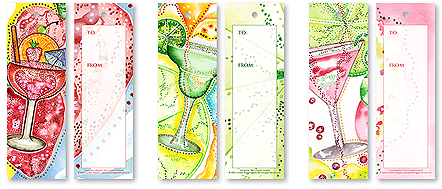 Give a gift along with your gift!
Use as a gift tag that they can keep as bookmark.
Perfect for wine and other beverage-related gifts.
SEE ALL 15 GIFT TAG BOOKMARKS & ORDER NOW >>>

These prints are great for any kitchen, restaurant or bar!
SEE ALL 20 ART PRINTS & ORDER NOW >>>

Do you have a new project that you need help promoting? Contact us for a FREE consultation to see how Canfield Design Studios can help you launch your next marketing initiative. To learn more and see some of our other projects, please click here.

Canfield Design Studios works with those in the arts and nonprofit communities who need business support in promoting their projects, and with businesses and entrepreneurs who need help in marketing their businesses in a more creative way.

We Offer:
Website Design & Development
Print, Logo & Identity Design
Illustration
Consulting & Training
Click here to learn more and see our portfolio >>>