September, 2008
IN THIS ISSUE:

| | |
| --- | --- |
| | Photo: Jan Goldstoff |
With this September issue, we are proud to announce opening of our new West Coast location. While we will continue to serve our existing clients all over the country, we are thrilled to be establishing an office on the West Coast, giving Canfield Design Studios even more of a national presence.

Beginning October 1st, please use the following address for all mailed correspondence:

2887 College Avenue
Suite No. 342
Berkeley, CA 94705

Phone numbers and email addresses will remain the same:

To contact our office:
Phone: 212-243-5295
Email: info@canfielddesignstudios.com

To contact Kathy Canfield Shepard:
Phone: 917-579-0672
Email: kathy@canfielddesignstudios.com

PLEASE ALSO NOTE:
The following email addresses are no longer in service:
kathycanfield@earthlink.net
kathy@kathycanfield.com

Please do not hesitate to contact us with any questions you might have regarding our new office!

In this issue we also feature a recent New York Business TV interview about Canfield Design Studios, highlight our client the American Modern Ensemble, which will begin their New York Times Center concert series on September 29th, and finally give you plenty of advance notice about two New York City arts conferences where we will be exhibiting in the new year. We hope you enjoy this issue, and as always, we welcome your thoughts.

Very best wishes to you all for a great Fall season,



Kathy Canfield Shepard, President
Canfield Design Studios, Inc.


Our president Kathy Canfield Shepard was recently interviewed by New York Business TV's Mike Ryan. See what she had to say about her background as a musician, and how she formed Canfield Design Studios to specifically work with arts, nonprofit and small creative businesses.
Click here to go to the website and select Kathy's interview from the home page >>>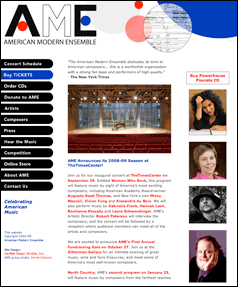 Join the American Modern Ensemble for their inaugural concert at TheTimesCenter on September 29. Entitled Women Who Rock, this program will feature music by eight of America's most exciting composers, including American Academy Award-winner Augusta Read Thomas, and New York's own Missy Mazzoli, Vivian Fung and Alexandra du Bois. We will also perform music by Gabriella Frank, Hannah Lash, Roshanne Etezady and Laura Schwendinger. AME's Artistic Director Robert Paterson will interview the composers, and the concert will be followed by a reception where audience members can meet all of the artists and composers.
Click here to visit their site and learn more!
See more of our web design projects >>>

Canfield Design Studios will be exhibiting at the these New York City performing arts conferences in January - we hope to see you there!

Association of Performing Arts Presenters
BOOTH NO. 139
January 9-13
Hilton New York
1335 Avenue of the Americas, New York, NY 10019
Click here for more info!

Chamber Music America
STOP BY OUR EXHIBIT TABLE!
January 16-18
Westin New York at Times Square
Click here for more info!



Canfield Design Studios works with those in the arts and nonprofit communities who need business support in how to market their projects, and with businesses and entrepreneurs who need help in marketing their businesses in a more creative way.

We Offer:
Website Design & Development
Print, Logo & Identity Design
Illustration
Creative Marketing Solutions
Consulting & Training
Click here to learn more and see our portfolio!