Summer, 2008
IN THIS ISSUE:

| | |
| --- | --- |
| | Photo: Jan Goldstoff |
It's hard to believe that Summer is already half over! While we are all (hopefully) taking it a little more easy than usual, enjoying extended weekends at the beach and taking family vacations, this is also a perfect time for all of us to take advantage of the slower pace and get our marketing initiatives in place for the 2008-2009 season. To help you accomplish this, during the month of August 2008, we are offering a 10% discount on all of our services here at Canfield Design Studios. To take advantage of this great offer, please mention this newsletter discount when you contact us!

In this issue, we highlight our client Laura Thompson and Loralia LLC (and some perfect new Summer reading); share an article from Jussim Communications about the important differences between writing copy for print and the Web as you work on your marketing materials; and finally we offer some "just plain fun" Summer picks.

We also highlight a beautiful new mug by our Swimming Paintbrush division - perfect for taking back to the office in the Fall!

We hope you enjoy this issue, and as always, we welcome your thoughts.

Yours in prosperity,



Kathy Canfield Shepard, President
Canfield Design Studios, Inc.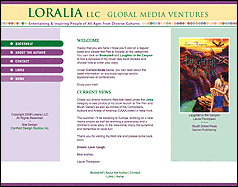 Laura Thompson of Loralia LLC is an international marketing communications professional who has worked with leading companies in the financial services, legal, hospitality and non-profit industries. In 2008, South Street Press, an imprint of Garnet Publishing, released her novel Laughter in the Canyon with a book signing party at the Pen and Brush Gallery in Greenwich Village, New York City. CLICK HERE to visit her website and see how you can order this great new Summer reading choice!
See more of our web design projects >>>

Words of Worth:
Marketing Copy: Print vs. Web


by Jude Jussim


It's the green season at last. The economy may be in low gear, but the City's gardens and parks are vibrant. Well-written marketing copy can keep your business vibrant, too, even when markets are slow. There are practical differences between copy for print marketing material and copy for the web. This issue of Words of Worth highlights the differences.

Click here to download a PDF file >>>



Are you going to be in In New York City? See a show!

One of the great things about New York City is the variety of great shows you can see - not only on Broadway, but Off-Broadway and all over the city.
Here are a couple of our favorites:

"Gypsy"
On Broadway at the St. James Theater
Starring Patti Lupone
www.gypsybroadway.com

Stomp!
Orpheum Theater in NYC - also on tour!
www.stomponline.com



Canfield Design Studios provides those in the arts and nonprofit communities with business support in marketing their projects, and assists businesses and entrepreneurs who need help in marketing their businesses in a more creative way.

We Offer:
Website Design & Development
Print, Logo & Identity Design
Illustration
Creative Marketing Solutions
Consulting & Training
Click here to learn more and see our portfolio!